Webinar : Growing like Rising Dragons with Meditation in Duanwu Festival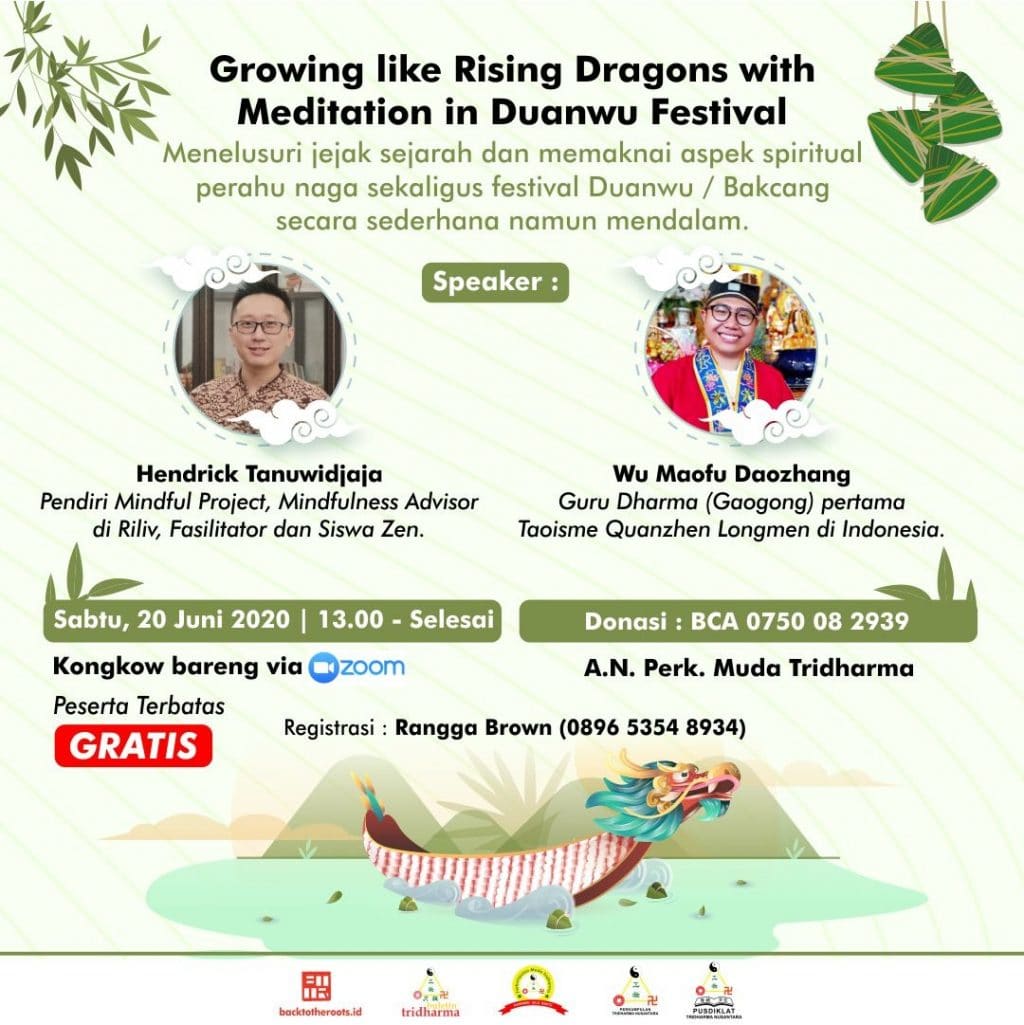 Growing like Rising Dragons with Meditation in Duanwu Festival
(Bertumbuh bak Naga Bangkit lewat Meditasi di Festival Bakcang)

Kongkow bareng via ZOOM
GRATIS & Peserta terbatas
Sabtu, 20 Juni 2020
Pkl : 13.00 – selesai
Registrasi :
Rangga Brown
0896 5354 8934
Donasi : BCA 0750 08 2939
A.N. Perk. Muda Tridharma
Menelusuri jejak sejarah dan memaknai aspek spiritual perahu naga sekaligus festival Duanwu / Bakcang secara sederhana namun mendalam.
Mengeksplorasi bagaimana kita dapat merayakan Duanwu / Bakcang-an dengan praktik langsung atau meditasi sederhana yang berasal dari tradisi penyembuhan Taois dan Buddhis, sesuai dengan sains dan tradisi kuno Bakcang.
Speaker:
Hendrick Tanuwidjaja Jushi
IG: @hendrick_tanu
is co-founder of Mindful Project and Mindfulness Expert at Riliv. He is 3rd generation disciple of (Acarya) Zen Master Guojun from Dharma Drum Mountain lineage in Taiwan and now studying both Chinese Zen and Shingon / Tangmi (Tang-dynasty Mantrayana) Buddhism under him. He also studies secular and scientific based meditation, and various practices from Kagyu and Gelug lineage of Tibetan Buddhism. Besides, he is a practicing architect vis-a-vis fengshui counsellor and delves deeply into Buddhist and Taoist rare texts.
Wu Maofu Daozhang
IG: @wumaofu
Is the first gaogong fashi (Honorable Dharmacarya priest) of Quanzhen Longmen lineage of Taoism in Indonesia, the lineage that stems from the leader of  Eight Immortals (Ba Xian). He is also the youngest ordained Taoist priest in Southeast Asia under Fung Ying Seen Koon (Pengying Xianguan), Hongkong and Quanzhen Cultural Society, Singapore.
He has mastery in the skill of Chinese astrologies and geomancy like Bazi, Fengshui, and Yijing.
Ayo buruan daftar sekarang 😎